The King of Hearts Express cardiac event monitor is a patient activated reco
rder for the diagnostic evaluation of symptoms such as dizziness, palpitations, and chest pain. The monitor has looping ECG memory to capture ECG data, both before and after the patient experiences a cardiac symptom. The patient wears the King of Hearts Express recorder both day and night for up to 30 days.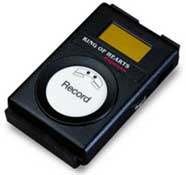 The ZIO card monitor is a single use, looping ECG event activated monitor that the patient wears for a 30-day
period, to capture ECG data when patients have transient symptoms such as syncope, palpitations, shortness of breath, or dizziiness.